Description
Warm and comfortable customizable hoodie!
It is always with pleasure and emotion that we put on an original and quality hoodie. For example, a sweatshirt jacket that was made just for you.
Stay warm first and foremost in all circumstances with this specially tailored women's zipped hoodie! Thanks to its particularly soft texture, you will have the impression of wearing your favorite blanket.
In addition, this hoodie will ideally complete your collection of warm clothes. Indeed, it is a feminine and curved model which allows to combine comfort and elegance. It is therefore a sweatshirt with the most beautiful effect for long nights and cool days in mid-season!
Thanks to these advantages, this vest will perfectly accompany your outfits both for your patient rounds and for your services in clinics and hospitals.
And on top of that, it's a thoughtful and ideal gift idea for any type of caregiver. Indeed, this hoodie can be personalized with the person's first name and profession.
With this sweatshirt, whether for yourself or for a gift, you will make a splash with your colleagues and patients!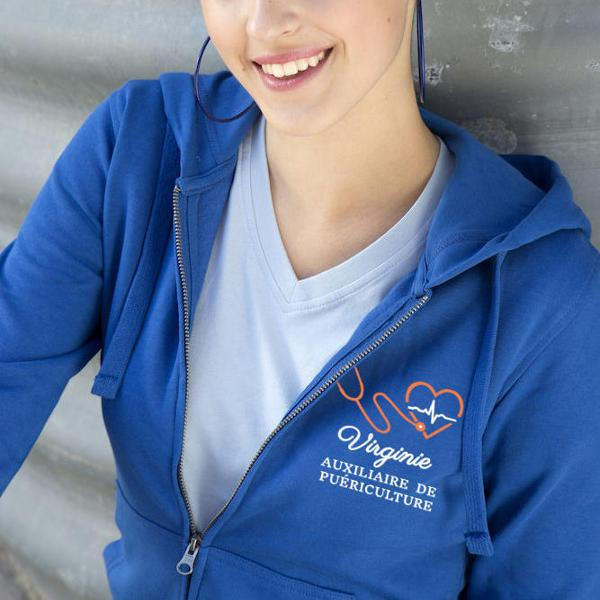 High quality design!
To tell the truth, nothing on this sweatshirt has been left to chance.
First, this hoodie  was designed in Sweden with top quality requirements:
clothes that do not move in the first wash,
clothes that also keep their size and colors.
In addition, it is manufactured according to the highest ecological standards:
High quality cotton,
Jacket washable at 60 ° C,
High-demand traceability of materials and the supply chain,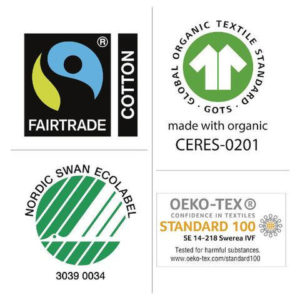 A women's hooded jacket with fully customizable inscriptions!
First of all, know that the text is fully customizable: first name + job.
However, for aesthetic reasons, we limit the length of the first name to 11 characters.
Also know that if your job is missing, just contact us. We will also be happy to add it to the list as soon as possible!
So, don't hesitate any longer, take advantage of this exclusivity of the HygieCreations.com Boutique!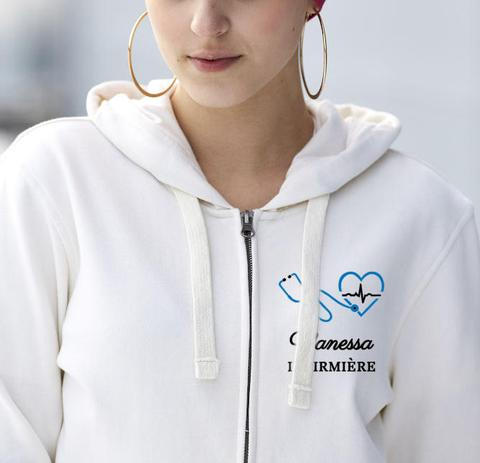 Characteristics
OEKO-TEX quality label.
60% cotton, 40% polyester.
Brushed interior.

Weight

: 280 g/m².
Two exterior front pockets.
No inside pockets.
Front zipper with colored zip puller.
Feminine, slim fit up to 2XL.
Two-tone embroidery branding on the heart.
The marking fits in a square of 10 x 10 cm.
Customizable text.
Finally, this hooded jacket is available in several colors. But which one will you choose?
Recommended job positions for this customizable hoodie
Acupuncturist, Pharmacy aide, Home help, Laboratory assistant, Nursing assistant, Night nurse, Hospital reception worker, Hospital service worker, Logistics service worker, Service agent, Care agent, Early childhood agent, Ambulance attendant, Anesthesiologist, Dental Assistant, Gerontology Assistant, Life Assistant, Family Life Assistant, Pharmacy Assistant, Family Assistant, Assistant logistics, Medical assistant, Social worker, Ambulance assistant, Anesthetist auxiliary, Childcare assistant, Life support worker, Social worker, Pharmacy assistant, Early childhood assistant, Pharmaceutical assistant, Nursery assistant, Medical biologist, Stretcher bearer, Health manager, Cardiologist, Surgical practitioner, Surgeon, Dental surgeon, Pediatric Surgeon, Dermatologist, Dietitian, Medical Student, Nursing Student, Student Midwife, Etiopath, Student Nursing Assistant, Medical Student, Student Nursing, Student midwife, Gastroenterologist, Gynecologist, Hydrotherapist, Hypnotherapist, Nurse, Operating room nurse, Cardiology nurse, Neonatal nurse, Pediatric nurse, Advanced practice nurse, Psychiatric nurse, Radiotherapy nurse, Nurse trainer, Public health nurse, Liberal nurse, Pediatric nurse, Physiotherapist, Radiology manipulator, Doctor, Military doctor, Emergency physician, Naturopathic doctor, Nanny, Nutritionist, Ophthalmologist, Orthopedist, Speech therapist, Orthopedist, Orthoptist, Osteopath, Pediatrician, Pediatrician, Chiropodist, Pediatrician, Podiatrist, Pediatrician, Podiatrist, Podo-orthotist, Dental technician, Psychiatrist, Psychologist, Child psychologist, Clinical psychologist, Psychomotor therapist, Pediatric nurse, Radiologist, Radiotherapist, Laboratory receptionist, Midwife, First aid worker, Medical secretary, Laboratory technician, Urologist.
Your specialty is not on the list? So ask our customer support. Following your message, our graphic designers will make it available within a few hours.
BUY SMART!

Combine your purchase with that of your colleagues!


=> Please take a look at our Group buying page.
Note that the production of personalized products involves making to order since each item is unique.



Our delivery times are currently 8 to 10 working days.


=> Please take a look at our Deliveries page.
Please note that all our jackets come from the same manufacturer and fit the same way.

=> Please take a look at our Size guide.
Are you still hesitating?
If the item does not suit you, you will be refunded 100% within 48 hours after returning the product.
Please feel free to try it out!